Have you ever felt the need to connect to your XBOX in some way? Make it a part of your home network, perhaps? Or just copy files to it? I have, and that's why I've written this fairly short guide to different ways of interacting with your XBOX over the internet.
This requires an XBOX with an installed modchip!
FTP servers
If you're simply looking to copy files, view folder structure, install applications or games, FTP:ing is the way to go.

The standard FTP server – the Dashboard's
Every dashboard, whether it's Evolution X, Anod-X or Unleash X, will have an FTP-server built in. Trust me. Open your dashboard's settings and browse through the options, chances are your server is already enabled. If it's not, enable it and set an appropriate password. On my Evolution X dashboard it looks like the image to the right. If you're not asked to specify a username, like in my case, then it is most likely hard-coded to xbox.
The other alternative – XBMC's FTP server

If you're using XBOX Media Center and you want the same FTP access, enter Settings and click on Network. Scroll to Servers and enable the FTP server. Here you are able to choose both username and password. Do choose wisely, please. You don't want anyone messing with your files!
Sharing files over a Windows network
If you don't want full access to the XBOX, but perhaps just access to certain folders, music, videos or pictures, the better and more secure way is to enable file-sharing.
File-sharing in XBMC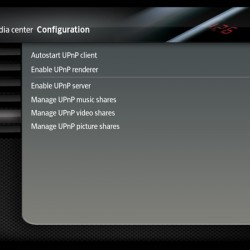 As XBOX Media Center is all about media, it lays focus on sharing media as a UPnP Server (its icon in Windows looks like this). Sharing media over the UPnP is very easy – it requires almost no configuration and works seamlessly over all networks. To enable the built-in UPnP server in XBMC, again go to Network inside the settings but this time choose UPnP settings and choose to autostart the client, enable the renderer and enable the server. To further choose what media is being shared, you can Manage the music, video and picture shares.
Remotely controlling XBMC through the web
As if it wasn't enough, XBOX Media Center includes a web-server and an interface to remotely control the XBOX via the web. It's enabled by going into the network settings, choosing Server and marking Enable webserver. The sleek web interface can now be accessed by typing the XBOX's IP into your address bar (to find the IP, go into System info in the shutdown-menu). Cool, huh ;) ?